By Justine Griffin, Tampa Bay Times, Jan. 29, 2017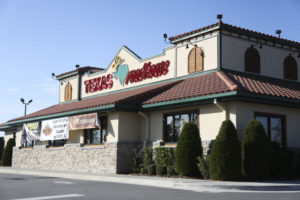 It's been a tough couple of years for chain restaurants, including the ones that peddle T-bones and filet mignon.
Logan's Roadhouse filed for bankruptcy protection last year. Lone Star Steakhouse is shuttering restaurants across the country. Tampa-based Outback Steakhouse, and its parent company, Bloomin' Brands, have been struggling to break the cycle of quarter after quarter of flat sales.
So how is it that a restaurant chain known for its cheap steaks and encouraging its patrons to throw peanut shells on the floor is outperforming so many others in the casual dining category? Louisville-based Texas Roadhouse is expanding aggressively. In the past three years, Texas Roadhouse has doubled the amount of restaurants it operates in Florida. Two more are set to open this year, and dozens more could be coming soon as the company continues to scout for real estate in the area.
exas Roadhouse was named one of the stocks to watch in 2017 by the Nation's Restaurant News after its stock prices jumped more than 35 percent last year. Texas Roadhouse has logged 26 quarters in a row of positive sales growth.
There's no secret ingredient to Texas Roadhouse's success, whose strategy has remained much the same for decades, says Brian Connors, a consultant with Fort Lauderdale-based Connors Davis Hospitality.
"There's nothing special about them, it's just a good, honest, American steakhouse," Connors said. "They aim and shoot right down Middle America. It's about meat and potatoes and ice cold beer. Now will they attract the health-conscious, city-living millennials? Probably not, but the 30-somethings with a mini van and two kids? Absolutely."
Read more here.